Post Grad Film Review :)
7:47:00 AM
Ryden Malby (Alexis Bledel) had a plan. Do well in high school, thereby receiving a great college scholarship and lastly, find an incredible job! Every fresh college graduate's dream. :) Now that she's finally graduated, it's time for her to find a gorgeous loft apartment and land her dream job at the city's best publishing house. But when Jessica Bard, Ryden's college nemesis steals her perfect job, Ryden is forced to move back to her childhood home.
Stuck with her eccentric family - a stubborn do-it-yourself dad, an overly thrifty mom, a politically incorrect grandma, a very odd little brother - and a growing stack of rejected job applications, Ryden starts to feel like she's going nowhere. The only upside is spending time with her best friend, Adam - and running into her hot next-door neighbor, David. But if Ryden's going to survive life as a post grad, it may be time to come up with a new plan...
Alexis Bledel.:) I've love this girl since Gilmore Girls. She is super pretty, sometimes too pretty. Bluer than blue eyes. Which made her perfect for this part. She is a good actress though at times I could detect a Rory Gilmore flare to her part. Maybe the two parts were too closely related. She is suppose to play the part of a super achiever girl who sticks by the plan. Sound familiar? Yeah, well I still liked her. Her acting made it seem real, and through the movie I felt as if she were telling me my future (I hope so, without the unemployment of course, but life ain't perfect) xD
Another thing I loved about the movie was that I felt totally connected with it. It was like my story when I graduated from college. Panic attack when you still haven't found the right job after a month or so from graduation :)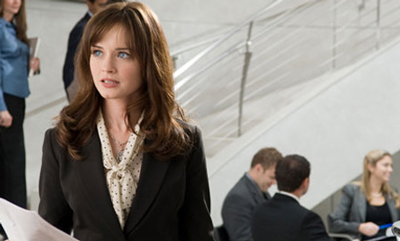 The end of the movie left me a little undecided. One one hand I understand the girl and the reasons she does whatever she did in the end, but on the other I don't find it completely believable and real. Then again I could just be a total cynic.
Fun and light. I really recommend this movie especially for those who just graduated and doesn't know
what to do in the real world. :)
watch the trailer here: