Iwahig Prison and Penal Farm & Iwahig Balsahan
6:55:00 AM
Based from experience, Palawan is one of the most beautiful place I've ever been to in my life. :) I'm not exaggerating. Surely I don't travel that much but my experience in this is incomparable. On our Day 4 of visit in Puerto Prinsesa, Palawan, we went to Iwahig. A town in Puerto Prinsesa. We went straight to Iwahig Prison and Penal Farm to visit a relative of my friend. On the way there, I have mixed emotions. My uncle used to be detained there but I've heard a lot of good stories of his stay there. Of course, he was in prison but then again, they already paid the circumstances of what they did, from my point of view, compared to Muntinlupa prison, it was much better for detainees to be in Iwahig.
When you get there, you'll notice that there were no barriers or whatsoever that will prevent detainees from escaping. But the location itself will discourage them from escaping, aside from the fact that it is surrounded by mountains, which will lead them to malaria if ever they cross the forest or by sea if they can swam South China Sea or wherever place they wish to go. But I don't think they will do that. The place itself is a nice rehabilitation center that will make them realize how lucky they are for having that second chance.
From Puerto Prinsesa city proper, we rode a tricycle and approximately 1 and a half hour we got at Iwahig Prison and Penal Farm. It was a rough ride. The road is not yet fully developed but I enjoyed the ride anyway, I love sight seeing, seeing all the greenery around me makes me feel I'm really in the province where I can breathe in fresh air.
The souvenir shop
I didn't feel scared at all once we get there, I know for a fact that they are civilized people who are changing they ways. In fact, once we got there, some of the detainees welcomed us with a big smile, then offered some of their handicrafts to us. Of course I bought a lot of key chains. I really love it! I remember, our home before in Project 8 Quezon City and Palmera Homes are filled with Iwahig handicrafts from my unlce and yes, they are absolutely amazing.
Iwahig Penal Colony was established in the early 1900's and to this date it's still operational. It is where detainees from other parts of the country were sent, jailed and forced to do hard labor while serving their sentence. Later on, the reformed ones are allowed to roam within the compound and mingle with the community while the "hard cores" remain in maximum confinement. Within the compound, there are farms tended by former prisoners who, after serving their sentence, have decided to stay in Puerto Princesa and start a new life. After a probationary period, long-term prisoners are allowed to become farmers, fishermen or wardens, as the prison is self-supporting and self-managed. They even have their own allowance which later own they can get to support their needs.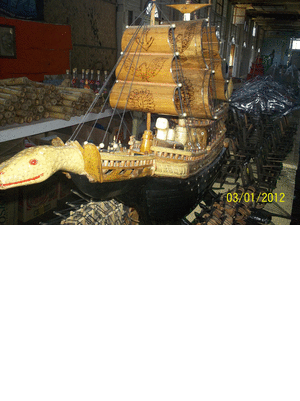 Their handicrafts which are located at the Souvenir shop is simply amazing. I want to buy it all!
After roaming around the place, we also went to Balsahan where we stayed for a while while drinking buko juice straight from the coconut tree. There are cottages as well plus the main attraction is the big pond or batis where you can swim your hearts out. Unfortunately we didn't get to bring any clothes, the water is clean and cold. No wonder there are tourists and foreigners as well at Balsahan, it's like a mini park to me and I enjoyed our trip there. I hope next time, when I get to visit Iwahig Prison & Penal Farm, I'll get to share some gifts to them. I don't know.It's hard for them of course to be away from their family. It's lonely.I'm sure they can't wait to be with their family as well. I'm not a very judgmental person and my experience when I got there was pretty memorable. :)
100 steps, view of Puerto Prinsesa :)
How to get to Iwahig Prison & Penal Farm
Iwahig Prison & Penal Farm is located in Barangay Iwahig, Puerto Princesa City, Palawan, about an hour by tricycle from the city proper. One can take a jeepney along Valencia Street or may hire a tricycle/private vehicle going to the penal farm. It is located 16 or so kilometers south of Puerto Princesa.