Indeed, we can already feel the summer heat. Most of us are dreaming of white sand beach, or pine trees and cold climate but the truth is, we all need a vacation. A time to relax and unwind, time to release our stress load for a busy year of full work, to appreciate more the nature and most especially, Philippines, the beautiful place where we, Filipinos proudly can say, It's More Fun in The Philippines. Check out my personal list of the top 10 best tourist/summer destination here in the Philippines. Start exploring!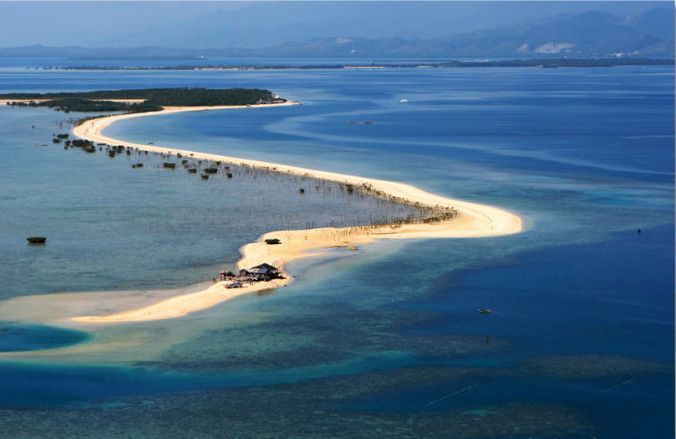 Palawan is rated as the best island destination in East and Southeast Asia region by the National Geographic Traveller magazine in 2007. It is also cited as the 13th best island in the world. Be awed at the beautiful natural seascapes and landscapes of Palawan. Just last week, we went to Puerto Prinsesa, Palawan and marveled at the amazing sites in this place above all, people here are so disciplined, thanks to Mayor Haggedorn for implementing no littering drive. Let's not forget that in Palawan, we can find one of the new 7 wonders of the world, Underground River/Subterranean River

National Park.
Famous Spots: Honda Bay, Coron, Tubbataha Reef, Subterranean National Park, Palawan Wildlife Rescue and Conservation Center, Calauit Island Wildlife Sanctuary, Tabon Caves
Activities:
snorkelling, diving, swimming, island hopping, caving,
Must-Try Food:
live mangrove worms, seafood dishes, vegetable dishes, chicken inasal (grilled chicken),
2. BORACAY
Thanks to SEAIR, I'll never get the chance to travel all the way to Boaracy and marvel at this very populat beach destination not only for tourists but also to celebrities. They just keep coming back for more of the pristine scenery. Boracay is voted as one of the best beaches in the world by BMW Tropical Beach Handbook in 1990. It is also voted as the number one tropical beach by British publication TV Quick in 1996. Enjoy fun activities and beach relaxation with its famous white sandy beaches and crystal clear waters.
Famous Spots: White Sand Beach, Kalibo Aklan, Bulabog Beach, Yapak, Tibiao Whitewater River, Mount Luho, The Bat Caves, Dead Forest
Activities:
scuba diving, snorkelling, windsurfing, kite boarding, boardsailing, caving, horse riding, yachting,
Must-Try Food:
seafood dishes especially Kinilaw (raw fish or shellfish marinated in vinegar and spices) , lumpiang ubod (vegetables mix with shrimps and pork wrapped in crepe), pancit molo (noodles)
3. BAGUIO
The first time I went to Baguio is when I was just 11 years old with my Inang and Tita Dors, we really enjoyed our trip then. We went to all the hot spots in Baguio. Baguio is known as the summer capital of the Philippines. It is considered as one of the cleanest and greenest cities in the country. Baguio is a mountain retreat that is visited by thousands of local and foreign tourists alike.
There are numerous of family activities in store for you. The additional breathtaking scenic views will definitely complete your summer vacation in this city.
Famous Spots: Burnham Park, Camp John Hay, Lourdes Grotto, Mines View Park, The Mansion, Ifugao Woodcarvers Village, Kennon Road, Baguio Cathedral, Mummies of Kabayan, Philippine Military Academy, Botanical Garden,
Activities:
sightseeing, horseback riding, play golf, boat rides, skating rink, biking,
Must-Try Food:
strawberries, peanut brittle, strawberry jam, purple yam, fresh and green vegetables
Website: www.baguio.gov.ph
4. TAGAYTAY
Tagaytay is like a mini-Baguio, simply because of it's cold climate but don't expect that it's freezing point though. This is one of the best place for team building or just a getaway from the hustle bustle of Manila. Tagaytay is a favourite spot for both the locals and foreigners. Its cool climate makes Tagaytay as a refreshing summer destination. It is referred to as the second summer capital of the country. This city also provides the best views of the Taal Volcano, a volcano within the Taal Lake. The scenic views around the city are stress free relievers. That is why Tagaytay is one of the best relaxing vacation spots in the Philippines.
Famous Spots: Taal Volcano and lake, Tagaytay Highlands, Tagaytay Picnic Grove, 41st Division USAFFE Marker, People's Park in the Sky, Filipino-Japanese Friendship Garden, Residence Inn Mini Zoo, Calaruega Church,
Activities:
sightseeing, play golf, ziplining, cable car, picnicking,
Must-Try Food:
mushroom burger, beef bulalo (beef shank stew), fried tawilis (small fish)
Website:
www.tagaytay.gov.ph
5. BOHOL
So, I've never been to Bohol but it's definitely in my list of places to go this year or soon. One of the reasons why is of course I want to see Chocolate Hills and I've heard they also have the best white sand beach ever. Bohol is famous for its beautiful beaches and resorts in the Visayas region. It is also well known for its diving locations. In fact, it is listed as one of the top ten diving locations in the world. Bohol is also the popular home of tarsiers. The native tarsiers are the second-smallest primate in the world. It is a must for tourists to check them out!
Famous Spots:
Chocolate Hills, Alona Beach, Bolod Beach, Doljo Beach, Balicasag, Loboc River Cruise, Philippine Tarsier Sanctuary, Blood Compact Site, Hinagdanan Cave, Man-made Forest in Bilar
Activities:
whale and dolphin watching, swimming, scuba-diving, snorkelling, caving, sightseeing, cable ride, zipline, sky jump, rappelling, trekking, biking, kayaking
Must-Try Food:
seafood dishes, sisig (hot plate), chicken barbecue
Website:
www.bohol.com
6. ILOCOS REGION
Sand Dunes, Ilocos Norte
Blue Lagoon
Kapurpurawan Rock Formation
What can I say, this is yet one of the best place in the North and sad to say I haven't been here to think I'm Ilokano. But anyway, I'm planning to backpack here on my birthday *cross fingers* hopefully, it'll pursue. Let's start with Ilocos Norte, this is where you'll find Sand Dunes of Ilocos Norte where "Walang Himala" movie of Nora Aunor and "Temptation Island" movie shooted their scenes. Sunset watching is breathtaking here. Next stop is in Burgos, Ilocos Norte where you can find Kapurpurawan Rock Formation and yes, I'm dying to see this one. Amazing landscape. Impeccable beauty indeed! Kaurpurawan coming from the root word - Ilokano word "Puraw" meaning "white". Next stop, The amazing windmills of Bangui! The 20 humungous windmills of Bagui can be seen in Pagudpod as well. They provide electricity and power supply to nearby towns. and lastly, Pagudpod where you can find the Patapat viaduct and amazing white sand beach as well like Blue Lagoon and Bantay Abot cave. Next, travel down to memory lane as you experience historical blast from the past when you get to travel at Vigan.
7. BICOL
Caramoan Island
Mount Mayon
Bicol province is truly popular nowadays simply put that there are a lot of amazing beach there that caters to surfers. Bicol is also a great place to explore the Philippines. One tourist destination you shouldn't miss is the Mount Mayon in Albay. It is famous for its "perfect cone". The almost symmetrical conical shape is amazingly beautiful once you see it in person. It is also a must to try their exquisite spicy "gata" (cooked in coconut milk) dishes.
Famous Spots: Mayon Volcano, Cagsawa Ruins, Calabidongan Caves, Mercedes Group of Islands, Puraran Beach, Mount Bulusan, Bulusan Lake, Butanding (whale sharks) watching in Donsol, Lake Buhi, Tumaguiti Falls, Camarines Sur Water Sports Complex, Catanduanes beaches
Activities:
sightseeing, caving, nature exploring (lake, falls, mountains, volcanoes), beach, Butanding whale-watching, scuba diving, water sports,
Must-Try Food:
Bicol express (spicy vegetables with meat or fish cooked in coconut milk), Pinangat (taro leaves stuffed with shrimp fry), pili nut products,
Website:
www.wowbicol.com
8. ZAMBALES
Anawangin Cove
Mt. Pinatubo treck
Yes, you read it right, Zambales is the place to be whether you love beach or trecking or sight seeing, this is the best place to be. This is where you'll find the famous Anawangin cove and Capones Cove. Famous for their amazing beach and nice picturesque sights. Prepare your tents because you'll sure camp in style here. Virgin beach as well since not too many people this place or maybe now they know. You also have to bring your own food. Remember to take a lot of pictures because the place is worth it. You'll feel like you're in another country once you get there. Next stop, treck to Mount Pinatubo, if you're into adventure, you've got to try this one.
9. CAMIGUIN
Katibawasan Falls
Camiguin is the second smallest province in the Philippines. But nevertheless this paradise has promising destinations you must see. It is referred to as the "Born of Fire". This spectacular island has seven volcanoes and several volcanic domes. Thus it was born out of the volcanic eruptions. It has also clear waters and noted as one of the top 10 dive spots worldwide.
Famous Spots: Katibawasan Falls, Tuasan Falls, Bura Soda Water Swimming Pool, Esperanza Ardent Hot Spring, Sto.Niño Cold Spring, Tangub Hot Spring, Macao Hot Spring, Tanguines Lagoon, Old Vulcan, White Island, Mantigue Island
Activities:
Nature exploring (waterfalls, beach, volcanoes, trails, caves), swimming in hot and cold springs, beach, snorkelling, scuba diving, trekking,
Must-Try Food:
Vjandeppastel buns with various fillings, piniato (peanut brittle), Maestrado Tablea (chocolate)
10. CEBU
Magellan's Cross
Bantayan Island
Cebu is one of my favorite destination. It has a lot of tourist destination where you can choose from. Whether historical since Cebu is the oldest city in the country. Cebu also boasts amazing white sand beaches, falls and other scenic views where you can take climatic photos that can wow everyone who sees it.
So,there you go..my top 10 summer/tourist destination of the Philippines. But I'm sure you also have a lot of places in mind. These are just my personal choices and some of them I'll be visiting soon and I would gladly post it here as well.Meanwhile, since is summertime already, go ahead and enjoy what our country is made of, I'm sure you'll also feel so proud that you are here in the Philippines. Travel while you can because it is so worth it.