Bioessence Spa & Facial Treatment Overload ;-)
9:37:00 PM
Thanks to Bioessence, we really enjoyed our facial & spa treatments especially for
the Mother's Day treat that we have for our Mom :-) I really love the ambiance at Bioessence, when we got to their West Avenue Branch, I can't help but smile, the place
itself offers a very relaxing mood for the customers. You will totally feel at home :-)
We were greeted with happy smiles and refreshing Ice tea too :-)
Since it's a special treat for Mother's Day, this is her special day :-)
She get to have a pampering facial treatment (Basic Facial)
with Anti-Aging white mask
Then Sauna and whole body massage :-)
She really enjoyed, after the spa treatment, she's all smiles and I bet she'll
truly treasure that wonderful day, thank you Bioessence! :-)
As for me and Van, we get to try their very own Diamond Peel, another pampering facial treatment :-)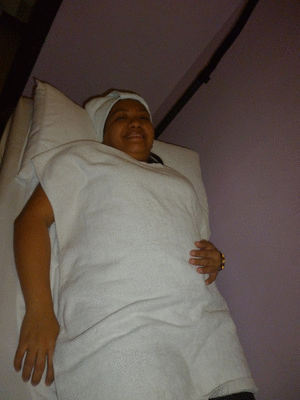 Diamond peel is used to fight the anti aging effects, it is a youth defying treatment. It makes the skin softer, whiter and tight. This treatment removes dead skin cells and eventually it will be replaced by new ones.
We really had fun with our Spa treatment that day and I fully recommend you guys to try their other breakthrough services :-)
Bioessence is a 17 year old organization which gained reputable brand equity, pioneering
the skin & spa trends in the Philippines' beauty and wellness industry. It offers innovative products and services, provides efficient staff training and customer service, creates and delivers fit to market brand communication through local and national promotional campaigns. Bioessence takes pride in its market leadership, with 50 branches nationwide and still growing.
Like their official Facebook page now:
Follow Bioessence via Twitter:
Again, from the bottom of my heart, Thank you so much
Bioessence for making Mother's Day special :-)
Till next visit! :-)
Don't forget to try out their amazing services friends!