Philip Philipps is the New American Idol season 11
8:35:00 PM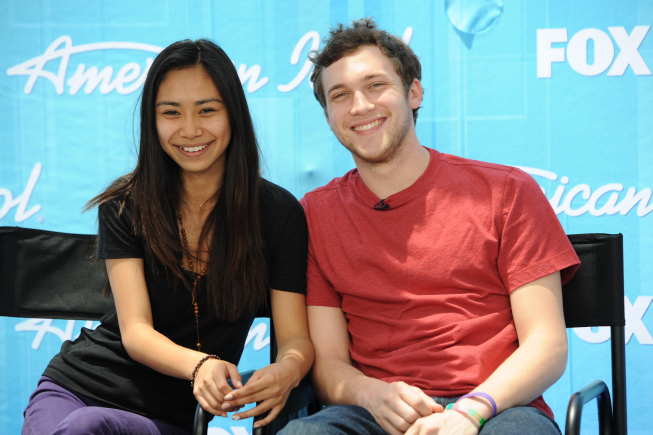 Over the passed few days, we've been praying, hoping, crossing our fingers and voting for every possible way just make our very own Jessica Sanchez win this season's American Idol, the result has finally came in and of course, we Filipinos felt sad about the result, just the same, Pinoy pride is bursting inside of me. Jessica Sanchez gave her best and she has no reason to feel that she didn't give it all. It was an amazing night for everyone.
Philip Phillips won season 11 of "American Idol," while most of us are expecting Filipino-Mexican singer Jessica Sanchez's name to be announced.
Watch the video as the winner is announced :-)
Philips got majority of the 132 million votes that came in during their final battle the previous night.
Fans and relatives of Sanchez in Samal, Bataan, her mother's hometown, were dismayed when the result was announced nevertheless they feel really proud of what Jessica has accomplished.
Despite the rainy weather, hundreds of residents and journalists stayed at the town's covered court to watch the live telecast of the results show.
Sanchez's relatives wore shirts printed with "I Love You Jessica" as they cheered her on.
Filipinos in the US were also disappointed for not having a Filipino-American "Idol" this year, a radio report said.
Despite her loss to Phillips, there's a silver-lining for Sanchez.
Casablanca Records co-owner and former Sony Records CEO Tommy Mottola will be working on Sanchez's first record.
This was revealed by Mottola's wife, Mexican singer/actress Thalia on her Twitter account.
"WOWgreat news! #TommyMottola just call me from #AmericanIdol & he is confirm to work in the first #JessicaSanchez CD!" Thalia tweeted.
Thalia, who has experienced huge fame and success in the Philippines in the 90s, had been a huge fan of Sanchez, whom she calls: "Mexicanita Filipina."
Phillips wowed the "Idol" judges during the Top 2 performance round.
His third song, and upcoming single, "Home" was well received and hailed as more radio-friendly than Sanchez's final song, "Change Nothing."
Phillips was given the sole standing ovation that night.
Sanchez's runner-up place is the highest finish of a singer of Filipino heritage on American Idol.
As of 10:20 a.m., a topic pertaining to Sanchez -- #JessicaforTheWin -- is trending on Twitter.
The finale is expected to be ratings gold for FOX Network, which has seen its viewership in a steady decline every year.
The show kicked off to performances from the Top 12 finalists, some of the biggest music stars and a marriage proposal.
"This is a big night!" host Ryan Seacrest said after the much-anticipated opening number.
The Top 12 girls and boys performed a medley of songs separately -- the girls joined by R&B superstar Chaka Khan, the boys by singer-songwriter Neil Diamond.
Rihanna fired up the stage when she sang her top-selling single "Where Have You Been?" while Idol judge Jennifer Lopez also blew the roof off the Nokia Theater in Los Angeles with two songs.
Judge Steven Tyler also rocked the house with his band Aerosmith.
But the scene-stealer was the marriage proposal of fifth season finalist Ace Young to Season 3 second place winner Diana Degarmo live on the "Idol" stage.
But even if your horse didn't win, Phillip and Jessica will ultimately both have record deals—and both had already been living the dream all night. That is the most important thing, some Idols in the past season won the final night but we came to think, where are they now? I'm hoping that both Philip and Jessica will have a starry career and they can make it really big in Hollywood.
As for Jessica Sanchez, we LOVE YOU! we hope that you'll have a massive concert here in Manila! We're so looking forward to your homecoming! :)

For more news about this season's American Idol, check out the official website:
Watch their Finale videos here:
Phillip Phillips -- Movin Out -- American Idol Finale
Jessica Sanchez - 'I have nothing' by Whitney Houston
Top 10 Most Viewed Videos on American Idol's Official YouTube Channel
(As of 1:00 a.m. of May 24, 2012)
1. Jessica Sanchez: "I Will Always Love You' – 5,170,038 hits
2. Jessica Sanchez: "Sweet Dreams" – 3,237,417 hits
3. Jessica Sanchez: "Stuttering" – 2,580,562 hits
4. Elise and Phillip: "Somebody That I Used to Know" – 2,045,972 hits
5. Jessica Sanchez: "Dance with My Father" – 1,832,589 hits
6. Jessica Sanchez: "How Will I Know" – 1,527,398 hits
7. Jessica Sanchez: Fallin – 1,498,097 hits
8. Phillip Phillips: "U Got It Bad" – 1,284,525 hits
9. Jessica Sanchez: "Bohemian Rhapsody" – 1,229,530 hits
10. Jessica and Joshua: "I Knew You Were Waiting" – 1,121,920 hits