Eat Dive and Explore at El Nido Resorts
4:18:00 AM
Copyright: www.itsmegracee.blogspot.com
Official entry for El Nido Resorts Contest
There's something about our country, Philippines that captures the hearts of many, even foreigners can't get enough of how wonderfully created our country is. We have a lot to be proud of. From delectable dishes, cheerful and hospitable Filipinos and white sand beaches no less.
What comes into mind when we're talking about pristine white sand beach?
Definitely, El Nido in Palawan. :-)
From my memorable experience at Puerto Prinsesa in Palawan, I felt like I wanted to stay there forever. The locals were very friendly and wherever I look, I totally appreciate how they take care of their surroundings. They don't litter and they are very disciplined.
I will never forget that place. It was a surreal experience.
I may not call myself as a Traveler since I rarely get the chance to travel because of tight schedule and budget but when I do travel, I make it a point that I will cherish that experience for the rest of my life.
Right now, my dream destination is no other than -> El Nido, Palawan.
I've been planning and wishing to my lucky stars that that someday I'll get the chance to explore this amazing place.
One of the best places to visit in the Philippines is El Nido, Palawan. It offers a lot of white sand beaches that are way more private. I've been dreaming of a restful vacation and a big desire for privacy, and here, I can do everything. Just me and the magnificent El Nido paradise. I already made a list of the things that I wanted to do if ever I will have the chance to explore El Nido. Plus, this is why I really, wanted an El Nido Resorts Holiday :-)
1. I want to Island Hop! El Nido boasts beautiful islands that is a must see :-)
2. Dine and enjoy El Nido Resorts
3. Rent a Bike and explore, But! I must be extra careful riding on rough roads.
4. Hike to see the entire island
5. Lay in the sand and fall asleep and stay relaxed. Or get a massage!
6. Kayak to the nearby islands,
7. Windsurf & Paddle Boarding
8. Go camping in the beach and go star gazing
9. Try the organic food and tea only at El Nido Resorts!
10. Swimming and Basking in the Sun :-)
11. Participate in El Nido Resorts fun activities/workshops/advocacies, I googled that they have fun activities every now and then, I'm sure I'll get to experience one when I get to stay there :-)
12. Do my routine of Jump shot at the beach front :-) It's been my goal to have my picture taken doing a jump shot in every beach that I get to visit and I really want to do this at El Nido.
13. Lastly, Learn how to Dive! This is my sole purpose :-)
What could be a more memorable way to appreciate El Nido than to go diving? there's a whole new world out there and I really want to experience at El Nido. Where I can be engulfed with it's inhabitants and make friends with the lovely creatures swimming around with me. I want to have a memorable encounter with sea creatures.
I've been to different beautiful beaches around the country, and I really am mesmerized with the beauty of it. I am really rooting for El Nido right now and looking at the beautiful pictures via google will not satisfy my eyes anymore, I need to be there, feel it, embrace it with my whole being.
If ever I get the chance to visit this paradise, I will document every minute I spend there. There will be no time wasted. I will blog about it and tell it to my love ones, my friends, foreigners, kids what a lovely place El Nido Resorts have and how every minute of your stay would feel like a calling for you to come back for more of this enchanting experience.
I know in my heart that El Nido is a paradise where promises and dreams are made and fulfilled. It's a paradise–waiting for me to be explored. A definitely must see place in the Philippines even in the world.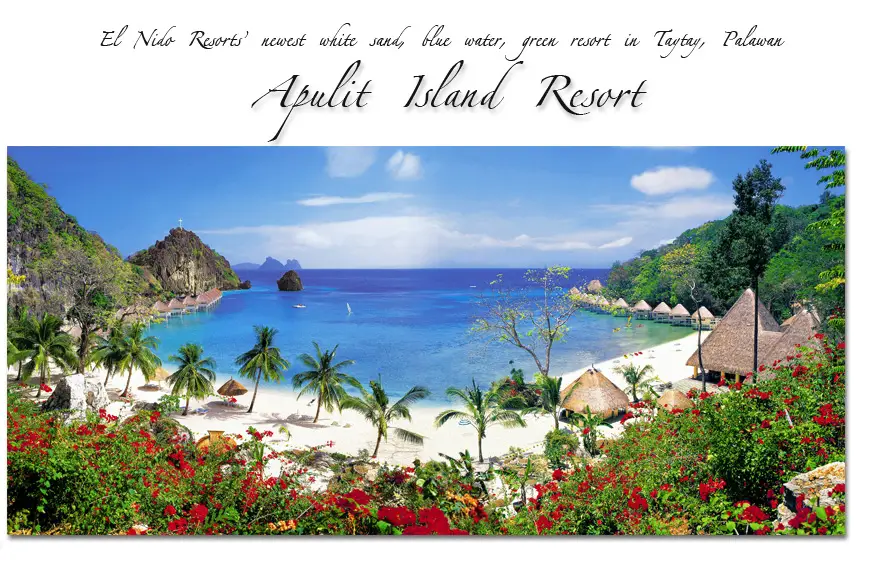 Miniloc and Lagen are found in El Nido, which is composed of 45 islands and islets, each with its own unique features. Most of the islands in El Nido have pockets of fine white sand beaches and coves—perfect for sunbathing and picnic lunches. Within some of the islands of El Nido are ancient caves with fascinating dripstone formations formed by millions of years of weathering action by rain water trickling into crevices and cavities, hallowing out large portions of the emergent limestone layer. In other islands, stretches of limestone walls conceal a world of calm lagoons.




Apulit, on the other hand, is located in Taytay, Palawan. Meaning "bridge" in the local dialect, Taytay was the first capital of Palawan and today is the largest municipality of the province. Apulit Island, surrounded by a marine sanctuary, lies within Taytay Bay.




Lagen Island Resort and Miniloc Island Resort, collectively known as El Nido Resorts, are located in the northern part of Palawan, Philippines. Apulit Island Resort is the newest eco-resort in Taytay, Palawan under the El Nido Resorts group. Each resort has its own charm and offers a distinct quality of personalized service that is attuned and responsive to the unique needs of each guest.

El Nido Resorts believes in respecting the natural environment through responsible tourism. It strives to operate with minimal negative impact to the environment. Having been operating in the area since 1981, El Nido Resorts have gained extensive knowledge of the area. From this knowledge and experience evolved a distinct quality of service that allows guests to have an enriching holiday.
For more info, visit their Facebook page:
Visit El Nido Resorts Official Website: