Win tickets to BIG BANG Alive Tour in Manila 2012
12:14:00 AM
Are you a big fan of BIG BANG?:-) But before I share you the details, here are some facts about the Korean boy group. Get to know them more!
(Korean: 빅뱅), commonly stylized as BIGBANG, is a South Korean boy band. The group's formation was chronicled on the television series Big Bang Documentary, from July to August 2006. The show was also aired online on GomTV and on MTV Korea. Initially a six-member group, one member got eliminated during the airing of the show before the official debut, leading to their current line-up.
Signed to YG Entertainment, Big Bang released several successful singles and EPs. Their first release, the EP Always (2007), spawned the number-one single "Lies" (Korean: 거짓말; Revised Romanization: Geojitmal). The follow-up EPs Hot Issue and Stand Up were similarly successful. After they received the "Artist of the Year" award from the M.net KM Music Festival and the Seoul Gayo Daesang Award, the group expanded their activities into Japan, releasing mini-albums and airplay singles. Their materials would not receive major promotion until the following year with the release of their first physical Japanese single, "My Heaven".
By the end of 2009, Big Bang became the most searched artist in South Korea. They also became the first foreign group in Japan to receive the Japan Cable Broadcasting Award for "Best Newcomer", and the first from Korea to receive the Japan Records award. In recent years, the members have branched out to do solo activities: Taeyang and G-Dragon have released solo materials while T.O.P, Daesung and Seungri have started acting
The members:
Real Name: Kwon Jiyong (권지용)
Position: Leader / rapper / singer / songwriter
Date of Birth: August 18, 1988
Education: Seoul Korean Traditional Arts Middle & High School
Position: choreographer / composer
Real Name: Dong Youngbae (동영배)
Debut: YG Family 2nd Album 2002
Real name: Choi Seunghyun (최승현)
Position: Beat Boxer / Composer / Rapper
Date of birth: November 4, 1987
Education Background: Seoul Art College (majoring in music)
Real Name: Kang Daesung (강대성)
Date of Birth: April 26, 1989
Basic Education: High School KyeongIn
Real Name: Lee Seung Hyun (이승현)
Position: Choreographer / Vocalist
Date of Birth: December 12, 1990
Excited to watch them live here in Manila this coming October 24 at MOA Arena?
then join Filebook's contest! :-) A total of 6 tickets to be given away!
Here are the mechanics:
Using the payment methods found in the website, you can pick the available amount
Filebook user must at least deposit a minimum amount in their account and
use it to download contents using cash.
One download is equivalent to one entry and this automatically entitles
them to the promo. The more download you have, the more chances of winning!
This promo is on from September 1 to September until October 16
Winners will be notified via Email.
(Please use a valid email address since this will be used to
Winners who live in Visayas and Mindanao area will cover their own expenses such as food/lodging/air tickets etc.
Prizes are not convertible to cash.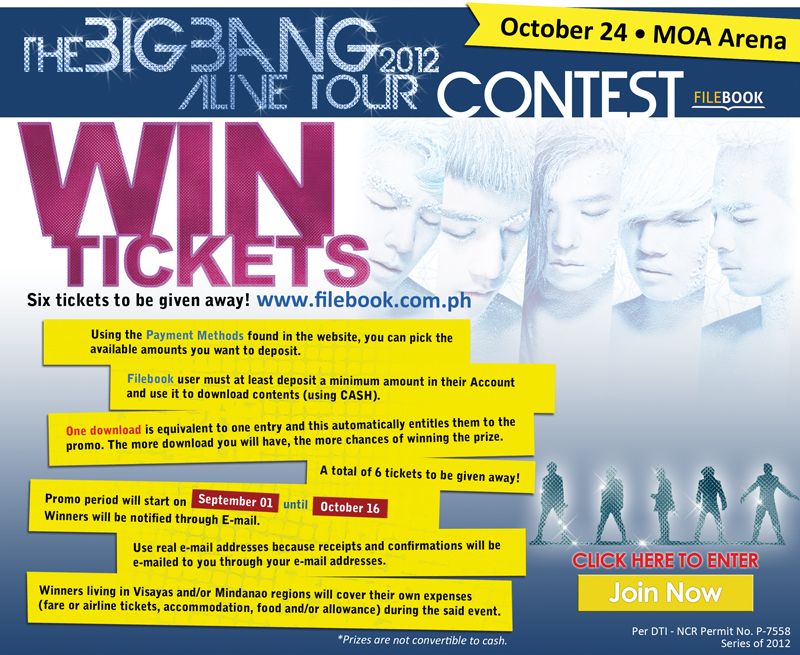 click the image now
So, what are you waiting for?:-) Download your favorite Korean TV series now
or your favorite KPOP songs at Filebook and get the chance
to watch BIG BANG live :-)
Filebook is "Your first digital platform" in the Philippines. An online digital content trading avenue (web-based data storage) where as an individual can conviniently and easily shared various forms of digital content using an environtment of stable distribution infrastracture through internet infrastracture such as high speed internet traffic, high-end servers, large storage and the like.
FILEBOOK sets a high value on P2P sharing environment. We also provide a new model based on the so called "Cloud System" which makes your sharing and storing of data more easy.
Check out their official website and start downloading your favorite Korean TV series!
watch your favorite movie, download an E-book or upload files!
name it, Filebook has it! :-)
Like Filebook on Facebook:
Follow Filebook via Twitter: