'Oz the Great and Powerful' Movie Review
7:44:00 PM
Special thanks to Nuffnang Philippines, Nokia and Abenson Appliances for the special screening passes I got last Thursday. I super enjoyed watching the movie! I love Michelle Williams, she's such a brilliant actress and very versatile as well and James Franco! For a moment there I was like confused if I am watching him of was that Johnny Depp?:-)
Sam Raimi directed the film which was adapted from Frank Baum's Oz book series which have been adapted plenty of times since the 1900's. What I love about watching this kind of movie, it brings me back to my childhood days, where I can imagine freely, be where I want to be, fly, swim in the ocean and be with fairies and more.
Oz the Great and Powerful is an exciting film, kids would love it but of course, in the first part of the movie which is presented in black and white, they might get bored but as the movie goes along with the casts candid humor, I assure you, this movie is super worth it.
It also has beautiful visuals that can make you appreciate the movie more when you watch it in 2D or 3D! the central story – the making of a great (and powerful) man – invokes the "spirit" of Victor Fleming's classic in an entertaining return to Oz for modern moviegoers.
As indicated, Oz the Great and Powerful explores the origins of several characters that play key parts in The Wizard of Oz - as well as other Oz adventures – but the film's primary focus is on non-wizard Oscar (James Franco). A womanizing sideshow magician, Oscar "Oz" Diggs wears out his welcome in the traveling circus and, fleeing for his life by hot air balloon, is sucked into a tornado – crash-landing in the magical world of Oz.
The people of Oz eagerly welcome Oscar, believing his arrival is part of an age-old prophesy that suggests a wizard from the sky will defeat the Wicked Witch and bring order to the land. Tempted by the promise of unlimited wealth and armed with nothing but magic tricks and a few faithful friends, Oscar sets out to kill the bad witch.
The story is pretty straightforward, especially for film fans who are already familiar with elements of the Oz story– witches, Munchkins, flying monkeys and other magical inhabitants. The movie serves as a dual origin story for both the Wizard of Oz and the Wicked Witch of the West – though Oscar is the primary focus and his personal journey from conman to great man sets all of the other characters in motion.
I strongly recommend this to a weekend family movie day. :-) Watch it with friends as well. I'm sure you will all love this movie.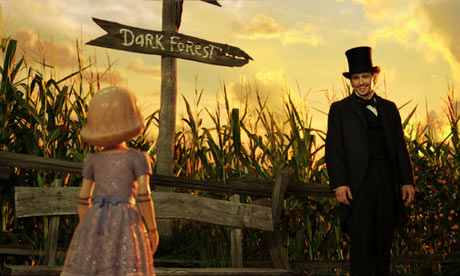 Mila Kunis & Rachel Weisz are perfect in this movie as well.
Two thumbs up for this movie! :-)
Watch the trailer here:
I also love this song from Mariah Carey, part of the OST of the movie :-)