Love Against All Odds showcased in GMA Network's Afternoon drama series — Maghihintay Pa Rin
12:07:00 AM
Proving that love knows no boundaries, GMA NetWork proudly presents Afternoon Prime's newest drama series, Maghihintay Pa Rin which replaced Bukod Kang Pinagpala lastJune 10.
Just last week, I got the chance to meet some of the cast of this afternoon prime serye,
Thanks to Dion Ignacio, Diva Montelaba and Ms. Bianca King for gracing the
Blog Conference at Congo Grille, Tomas Morato.
Finally, I got the chance to meet one of most beautiful stars cast by Yes! Magazine for this year. Bianca King is indeed blooming, one wouldn't think she had just undergone a break up.
When asked how does she do it? She said that she lives a positive life, she is focused right now on work and she always wanted to give her best with everything she does.
When she's not doing a shoot or taping, she is really homebody person, she loves to hang out with friends, invite them at her home and cook, definitely a homemaker! plus, she is also a blogger! I find that really amazing, despite her busy schedule, she finds time to write online.
She also talked about working with Dion and Rafel. She said that Rafel is very passionate about his craft. He takes his work seriously like her. With Dion, he treats her with full respect
"magalang at maingat". When asked if she can fully relate with her role as "Geneva, she said that yes, she would give 100% for love, She would be willing to give up her career for the right person. When it comes to long term relationship, she said she haven't experience it yet but both person involved in that kind of situation should make it work and should believe it would work. They should have a goal in mind.
"If you love someone, you make it work." ~ Bianca King
Dion Ignacio plays the role of Orlando, friend of Kiko (Rafael Rosell) who secretly admires Geneva (Bianca King). I got the chance to ask him how is he doing after star struck days,
how has he matured during those times and how he can rate himself in terms of acting and
I can sense that Dion is a very humble and hardworking person.
"Marami na po akong natutunan at masasabi ko po na medyo nakakasabay na din ako
in terms of acting. After Magdalena, nahasa na din ako kahit papano and salamat din kasi may mga workshops kami kaya malaki din ang naitutulong nito sa akin."
Can he handle long term relationship?
"Hindi, pag mahal ko gusto ko nakakasama ko lagi, nakikita ko at nakakausap ko. Kaya naman bilib ako sa mga OFW, nakita namin kung gaano sila nagpupursige
sa Singapore. Kahit sa pamilya ko, gusto ko lagi ko sila nakakasama."
Is he choosy when it comes to accepting roles?
" Hindi naman po, kung ano po mabigay sa akin, tatanggapin ko po at pag aaralan ng mabuti. Ibibigay ko po best ko para magustuahn ng tao."
Will he willing to accept gay roles like Dennis Trillo?
"Opo, willing ako. Role naman na po kasi yun. Pag nag take na, hindi na ako yun,
yung role ko na."
Also present on the said BlogCon is Diva Montelaba who plays the role of
Milan, Kiko's neighbor who loves him. It's a kontrabida role, just perfect since she is also dreaming of portraying a bida-kontrabida role someday.
For Diva, it's much easier for her to portray a Kontrabida role, and she takes on her favorite kontrabida icon Cherie Gil. She also loves working with Bianca because she is very professional who helps her alot, Rafael is a good friend and as for for Dion,
they also get along really work although they didn't get the chance to do scenes
often.
She also showed her soft side when asked if she can relate with long term relationship,
"Nakakarelate ako not in the sense of a relationship but to my grandmother who passed away. I miss her alot, sana may viber sa langit para I can just talk to her. I'm very close to my lola. "
She said this is a tearful manner that touched my heart as well because just last April my Lola also passed away and I can relate, how I wish they're a phone call away.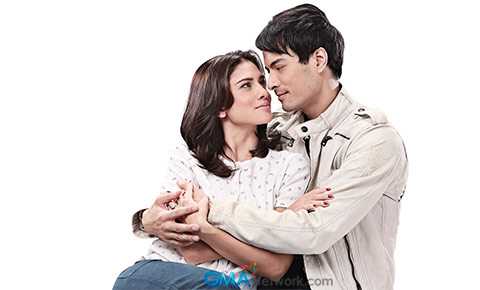 Photo credits to GMA Network
Maghihintay Pa Rin sets to highlight the value of love and commitment despite distance and status differences. Starring in the series are the network's prime actors and actresses headlined by Kapuso leading lady Bianca King, Dion Ignacio, and Rafael Rosell together with veteran actresses Ayen Munji-Laurel and Tanya Gomez. Completing the cast are JC Tiuseco, Diva Montelaba, Julie Lee, Lou Sison, JM Reyes, Daniella Amable and Sachi Manahan. Bianca plays the role of Geneva De Villa who, despite having all the riches, longs for the love of a complete family. Right after her father died, all her mother Rio (Ayen Munji-Laurel) did is to tend their business De Villa Maritime Corporation and Manning Agency and treat their employees unfairly.
In the same company, Geneva meets Kiko Sebastian (Rafael Rosell), whose father works in De Villa's agency. While working abroad, his father got sick and eventually died. Like any other case, Kiko didn't get any help from the agency. Fortunately, Geneva helps him until they become friends and develop feelings for each other. Despite Rio's refusal of their relationship. Geneva fights for her love for Kiko and willingly endures the hardships of being poor. She will then meet Kiko's mother. Trinidad (Tanya Gomez) and siblings Cholo (JM Reyes), Lita (Daniella Amable), and Bebot (Sachi Manahan). She will also get close to one of Kiko's friends named Orlando Ramirez (Dion Ignacio), who secretly admires Geneva.
Still adjusting to their situation, Kiko's mother unfortunately suffers a heart attack and needs to undergo an operation as soon as possible. Because of lack of money, Kiko decides to work in Singapore with high hopes that their current situation will get better. Between struggling everyday lives and challenges in communication, Kiko and Geneva prove that distance means so little when someone means so much. Kiko crosses paths with Grace Lim (Julia Lee), a Filipino-Chinese businesswoman in Singapore, who will help him look for a better job, while Geneva is being pursued by Orlando. But true love finds its way because Geneva flies to Singapore to visit Kiko. Finally deciding to come back home to the Philippines, Kiko bids his farewell to Grace, which the latter refuses. She sets up Kiko and accuses him of rape. Kiko will be sent to jail and sentenced to death. Upon knowing the unfortunate fate of Kiko in Singapore, Geneva desperately seeks her mother's help. In exchange, Geneva agrees to her mother's wish for her to marry Orlando, who is now affluent.
How is Kiko going to feel when he finds out about Geneva and Orlando's marriage? Will he be able to meet Geneva again? Will Orlando be able to prove his love for Geneva? Until when will Geneva and Kiko struggle for love and how will they attain their dream of having a complete family?
From the original concept of Dode Cruz, Maghihintay Pa Rin is directed by Don Michael Perez and supervised by the Officer-in-Charge for Entertainment, Lilybeth G. Rasonable; VP for Drama, Redgie Acuna Magno; AVP for Drama, Cheryl Ching-Sy; Program Manager, Ali N. Dedicatoria with Executive Producer, Darling Pulido-Torres.
The creative team is composed of Creative Director, Tun Lana; Creative Head for Afternoon Prime, Roy Iglesias; Creative Consultant, Des Garbes Severino; Headwriter, Kit Villanueva-Langit; Writers, Luningning Ribay and Geng Delgado; and Brainstormers, Richard Cruz, Kenneth Enriquez, and Rey Leoneito.
Follow your Kapuso stars via Twitter:
Dion Ignacio - @dion_ignacio, Bianca King - @bianca_king,
Diva Montelaba - @imdivamontelaba
GMA Artist Center