Orlando Bloom and Miranda Kerr Call It Quits
7:25:00 AM
Proving that even the preternaturally beautiful cannot always make it work, former Legolas Orlando Bloom and former Victoria Secret's Angel Miranda Kerr have announced they are separating after three years of marriage. Their statement reveals that the pair has actually been "amicably separated for the past few months," which makes it somewhat surprising that no tabloid outlets seemed to have caught on (though there were some murmurs about a potential break-up in January).
A rep for Bloom exclusively confirms the breakup. "In a joint statement, Orlando Bloom and Miranda Kerr have announced that they have been amicably separated for the past few months," the rep said in a statement. "After six years together, they have recently decided to formalize their separation."
The statement continued, "Despite this being the end of their marriage, they love, support and respect each other as both parents of their son and as family."
The 36-year-old British actor and the 30-year-old Australian Victoria's Secret model began dating in 2007. They were married in July 2010 after announcing their engagment just a month beforehand.
Kerr gave birth to their son, Flynn, on Jan. 6, 2011.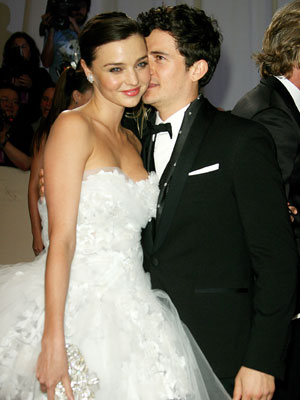 credits to dailymail.co.uk
The last time the two were photographed together was at the Broadway opening of his Romeo and Juliet on September 19th. Miranda appeared solo at the CFDA & Vogue Fashion Fund dinner on Wednesday night in Beverly Hills.
Bloom is currently starring in the production with Condola Rashad.