Barbie Hsu is 5 Months Pregnant
12:10:00 AM
Barbie Hsu latest news! I'm a big fan of her ever since Meteor Garden was aired in ABS-CBN and ever since I think I've watched the series for over 50 times now.
If you are clueless who is Barbie HSU then let me tell you something about her :-)
Barbie Hsu also known as Dà S (大S) (Chinese: 徐熙媛; pinyin: Xú Xīyuán; Wade–Giles: Hsü Hsi-yüan was born on 6 October 1976. She is a Taiwanese actress and singer. She is most well known for her role as Shan Cai in Taiwanese drama Meteor Garden, an adaptation of the Japanese manga Boys Over Flowers and Mars with Vic Chou of F4.
She has also acted in movies, her first being the Chinese movie The Ghost Inside. She also had a singing career prior to her acting career. She was in a duo group called "S.O.S." (Sisters of Shu) with her sister Dee Hsu. Their last album was called Abnormal Girls. Due to the nature of the term S.O.S, they changed their group name to ASOS (A Sisters of Shu).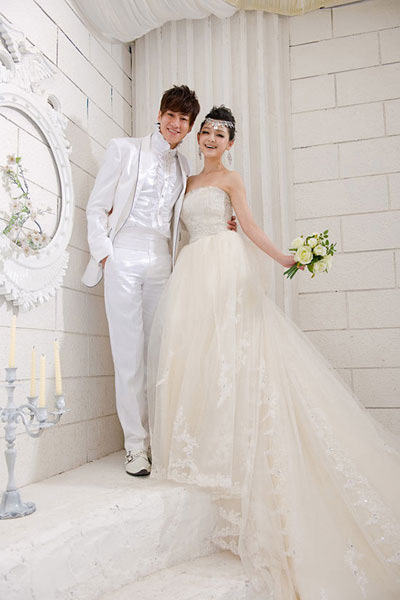 On 16 November 2010, Barbie married Chinese entrepreneur Wang Xiaofei in a civil ceremony Beijing and held the wedding banquet on Hainan Island on 22 March 2011.
Now, the 37 year old actress is 5 months pregnant.
According to Barbie, " I am an older mother, so I have a high amniotic fluid. The baby is heavier which is why my tummy is bigger."
"Thank you everyone for your well-wishes! We are now a family of three! Gratitude," said Hsu. This is according to Barbie's official website.
Currently resting in Beijing, Barbie is very excited about motherhood, "I'm really happy. Earlier, I told everyone that I might be pregnant. After going through some tests and making sure the baby is developing healthily, I made the pregnancy announcement. I was very nervous earlier and feel that there's a heavy burden. The entire family is absolutely ecstatic, and so am I! My only wish is to successfully give birth to the baby."

Xiaofei looks forward to the new addition to the family. He said, "I feel that the meaning of work has changed. I have a greater sense of responsibility and practicality. I will balance the time spent between work and family." He added that his mother and Barbie did not have any discord. Although the gender of the baby has not been revealed to the public, it is understood that Xiaofei wants a girl.

In related news, Barbie's ex-boyfriend Vic Chou (周渝民) was also reported to be an expectant father. Living at Vic's apartment, Taiwanese actress Reen Yu (喻虹淵) halted work since March and her former 44 kilogram (97 pound) frame has been looking much more plump lately. Reen dismissed the pregnancy rumors and said that her weight gain was due to health problems. She shared a photo of herself lying on a hospital bed and wrote, "Don't worry, I'll definitely become healthy again and return to my 44-kilogram figure!"
So that's the latest from our favorite Meteor Garden stars!
I'm still hoping for a reunion :-)