Rhodora X Premieres on January 27 via GMA TELEBABAD
7:20:00 PM
GMA Kapuso Network welcomes 2014 with a roster of shows that would take entertainment to the next level and to even greater heights. From Afternoon Prime to Primetime, GMA will be giving a different spin to drama, suspense and romance this new year.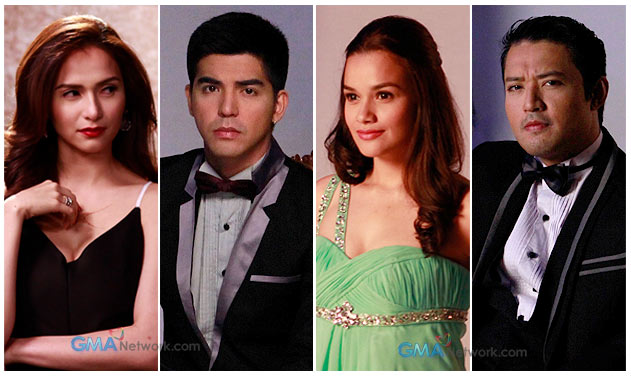 Rhodora X will be another breath of fresh air for the local Primetime scene as it explores the workings of the human emotions. Jennylyn Mercado leads the cast with her StarStruck batchmates, Mark Herras and Yasmien Kurdi. Also joining them is brilliant actor, Mark Anthony Fernandez.
Last January 17, Bloggers got the chance to meet 2 of the big stars of the upcoming soap of Kapuso network which is no less than Yasmien Kurdi and Mark Herras.
Everyone's excited for this project because after 10 years, Starstruck batch mates will be together again in one solid project.
According to the Starstruck alumni Yasmien Kurdi, this is one of those challenging roles that an actress shouldn't pass the chance of grabbing it. This Teleserye, she added is totally different from other traditional teleseryes we got used to.
"Kakaiba 'yung concept nito…Educational itong show na ito, you will learn something from it, and it's real, it's happening in real life. Kakaiba siyang concept in Philippine TV, makikita mo onscreen na kakaiba siya," she says.
"Hindi siya 'yung typical Filipino drama na may mayaman tapos aapihin ang mahirap, o kaya 'yung helper sa house na mai-in love sa amo niya, 'yung ganoon. Walang ganoon na istorya dito. 'Yung story na 'to is more on science, psychology. It's a privilege na napasama ako dito sa show na ito dahil sa kagandahan ng story."
It took a while before Yasmien did a major role, she was last seen on Anna Karenina and now, she's back on primetime, fans will be delighted to see that it's a fiercer Yasmien Kurdi this time. She said she always gives her best on every project that was given to her and was very thankful to GMA artist Center for taking care of her career.
Yasmien added, even though she took a break because she studied, got married and now has a lovely daughter Ayesha, she didn't have a hard time concentrating on her challenging role.
"Pag nasa set na ko, si Angela na ako. After nun, I slipped back to normal.
Before kasi nahirapan ako bumalik sa dati after ng role ko. Nadadala ko yung role ko. With Rhodora X, we had all the preaprations. Nag workshop kami, we did immersions and may mga tumutulong sa amin about our roles because this is not the typical serye, we are tackling split disorder personality."
Yasmien also celebrated her birthday recently and GMA Artist Center surprised her with a
super cute birthday cake. She was happy with the flow of her career now because unlike other who had a hard time with their comeback, it was a fresh start with Yasmien and she plans on doing so in the coming years.
Mark Herras arrived at the BlogCon looking fresh and vibrant that day. Others may compliment him because he looks "blooming" nowadays, could it be, because he is reunited with Ms. Jennylyn Mercado? When this was asked, he smiled and laughed even when Yasmien was teasing him.
"Si Yasmien ang faney namin eh, president ng fans club." He said is just happy is is reunited with his co-batch mates and he is enjoying working with them because the atmosphere is very comfortable. "Kung ano man ma-develop o mangyari in the future, bahala na." he added.
According to Mark, his role as Joaquin is totally different from his past roles. "Yung mga roles ko kasi dati, simple lang ako, masa. Ngayon, I'm from a rich family, shipping magnate ito so I need to be more corporate,magaganda mga damit ko dito. Magaling yung stylist ko then maganda rin ang setting, matutuwa sila sa mga locations namin."
Looking at Mark now, he is more mature with his actions and how he speaks. "siguro dahil na din sa mga experiences ko sa buhay, 27 na din kasi ako, I need to focuss on my goals."
When Mark is not taping or busy with work, he is just at home playing games or taking a rest. "Homebody kasi ako, I don't go out kasi, pwede naman sa bahay uminom. Mag games lang o pahinga ganun."
Rhodora X is a story about rivalry between two sisters. One of them is afflicted with Dissociative Identity Disorder (DID). This condition jump starts the plot and defines the sisters' relationship between them. It also is the cause of jealousy and the motivation for the power struggle between them.Jennylyn Mercado plays a woman with Dissociative Identity Disorder in Rhodora X.
The role of Jennylyn is very challenging. She is a woman who has been abused as a child after being abducted, hence developing another personality within. Pyschiatrists define it as Dissociative Identity Disorder or DID.
Rhodora as Roxanne is a smart woman but also scheming and manipulative. She hates Angela (played by Kurdi) so much to the point that she will do everything to get what Angela has the affection of their mother and Angela's love, Joaquin.
Main Cast
Jennylyn Mercado as Rhodora Ferrer-Quirante/Rhodora X/Roxanne Ferrer/Roxanne Ferrer-Quirante
Mark Herras as Joaquin Quirante
Yasmien Kurdi as Angela Ferrer-Feliciano
Mark Anthony Fernandez as Nico Feliciano
Supporting Cast
Glydel Mercado as Lourdes Ferrer
Gardo Versoza as Derick Ferrer
Frank Magalona as Santi Feliciano
Irma Adlawan as Dra. Vivian De Castro
Vaness del Moral as Pia Ferrer
Lollie Mara as Doña Carmencita "Cita" Quirante
Ana Capri as Luisa Magdangal - Client of Mental Hospital
Rachelle Ann Go as Diana De Castro-Buenavista
Mark Bautista as Armando Buenavista
Carmi Martin as Cheska Magdangal
Gian Magdangal as Medical Team I
Arthur Solinap as Medical Team II
Victor Basa as Medical Team III
Danielle Amable as Andrea De Castro Buenavista
Jolina Magdangal as Charity Feliciano/Zoraida Ferrer
Andrea Torres as Alice Punzalan
Rez Cortez as Romeo
Lexi Fernandez as Andrea Belmonte
Directed by: Albert Langitan
Watch as Mark and Yasmien invites you to watch their upcoming Teleserye:
For more details Like their Official Facebook page:
Follow live tweets via:
@RhodoraXGMA7
Thank you GMA Artist Center for inviting us and Thank you Mark Herras for posting our picture on your instagram account :)
Follow Mark and Yasmien via Instagram:
@marktheherras
@yasmien_kurdi