NovuHair: Nature's Answer to Hair Loss!
9:21:00 PM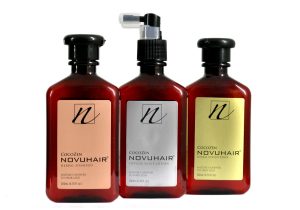 Recently, NovuHair held a Media launch of it's new product at Relish, Hello Happiness!
This is my first time to attend their event and I am quite curious of NovuHair. I've heard so many things about NovuHair but this is the only time that all the questions in my mind were answered. During the event, they held a scalp screening so that we would know more about the status of our scalp if it is still healthy or not.
Like the common factors that spawn hair fall, finding the right solution to your hair woes is one confusing process that could only worsen the trouble. Before, most of the products available in the market offer empty promises, temporary and even expensive solutions to address the problem of hair loss.
Now… nature has provided a truly safe and potent answer to hair loss and other scalp disorders with NOVUHAIR® Topical Scalp Lotion and NOVUHAIR® Herbal Shampoo.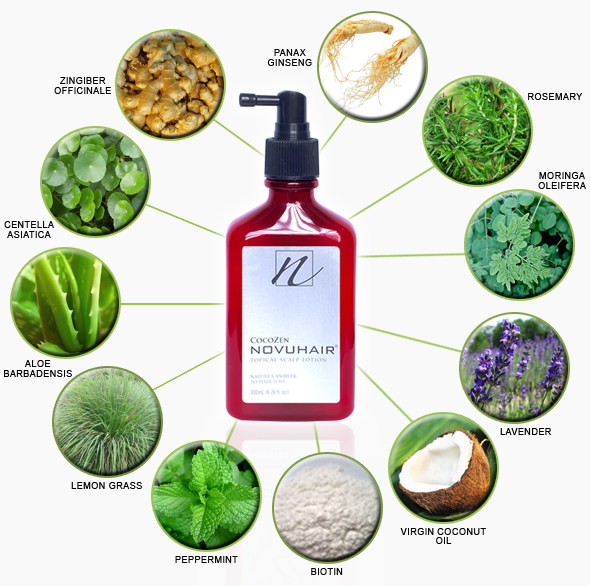 NOVUHAIR boasts of natural herbs, essential oils and co-factor nutrients that are proven and used for centuries to treat hair problems the safe and effective way.
Years of research and testing of numerous herbal ingredients resulted in this unique combination of herbal extracts, essential oils and co-factor nutrients which help to strengthen and reactivate hair follicles, to reduce hair fall and to stimulate hair growth.
NOVUHAIR is a topical scalp lotion combining standardized herbs with essential oils and co-factor nutrients, specifically chosen for their hair growing properties.
NOVUHAIR penetrates deep to rejuvenate the hair follicles, provides optimum nutrition to help combat hair loss and/or thinning of hair, improves blood circulation in the scalp which contributes to the stimulation of hair growth.
NOVUHAIR improves the overall cosmetic properties of the hair, maintains moisture in hair and scalp and provides a refreshing cleansing effect to regain hair luster and vibrancy.
NOVUHAIR eliminates dandruff and alleviates scalp itchiness because of its antifungal, antibacterial and anti-inflammatory properties.
Novuhair users already notice a decrease in hair loss after only just one week. Hair growth becomes evident with regular use of the product. Once desired results are achieved, Novuhair may still be used as hair and scalp maintenance.
In response to growing demand from its users both here and abroad, Novuhair is now available in a special 2-in-1 Plus One pack, a combo inclusive of Novuhair Shampoo, Topical Scalp Lotion, plus an additional bottle of Novuhair Shampoo.
Just recently, Novuhair introduced two of its latest endorsers – TV host Kim Atienza and singer-songwriter Abby Asistio.
Since she was four years old, singer, songwriter and TV host Abby Asistio has been suffering from alopecia areata, an auto-immune skin disease resulting in partial or complete loss of hair on the scalp and the rest of the body.
"I went through a lot of tough periods in my life. Growing up, I accepted the fact that I could never meet that standards set by the world when it comes to beauty. If I were to even fit in and be considered normal, I must resort to hiding under hats, bandanas and my ever reliable wigs," said Abby.
Abby lived through the entire process of experiencing hair fall: losing it little by little, and then deciding to shave it all completely. She even tried other hair loss remedies when she lived in the US for several years, including chemical-based products that have resulted in negative side effects.

She was just starting to finally embrace her "baldness", when upon prodding from family and friends, Abby decided to give Novuhair a try. She experienced remarkable results in just a few months of regular use.
Things are looking bright for Abby as she recently launched her album "Beautiful".
"I have found my purpose and hope I can continue to inspire others with my story and music. I realize now that more than a disease, I have been given a gift to impart my testimony. Indeed, one must never give up hope." said Abby.
Novuhair Topical Scalp Lotion is available in all Mercury Drug Stores and other leading drug stores nationwide as an individual purchase, part of a combo pack that includes a bottle of Novuhair Herbal Shampoo, and a 3-in-1 pack that includes the herbal shampoo and herbal conditioner.
For more information visit www.novuhair.com, like the brand's official Facebook Page at Novuhair Official, and follow it on Twitter at @NovuhairUpdates. You may also call the Novuhair hotlines at 4136570 and 09228830575.
So, say goodbye to costly surgery, cosmetic remedies and harmful chemicals and let nature do the makeover with NOVUHAIR®… Nature's Answer to Hair Loss!
and since I love my readers and I am really thankful for your time, I'm giving away a set of NovuHair Herbal shampoo and Novuhair Topical Lotion! :) This is worth P2,000 plus! :)
Plus, I'll be sending the prize straight at your home! :-)
Join now! :-)
a Rafflecopter giveaway
Congratulations to the lucky winner of the Novuhair gift pack!
Will contact you soon on how you will receive your prize! :) Congrats! :)