Ang Dalawang Mrs. Real: Getting to Know Anthony and Millet
7:23:00 AM
When I saw the trailer of Ang Dawalang Mrs. Real in Kapuso channel GMA 7, I was thrilled to see the Diamond star Ms. Maricel Soriano in a primetime slot again. We've all been waiting to see her again on TV and I believe this is one of her projects that will totally leave a mark in her career also with Ding Dong and Lovi.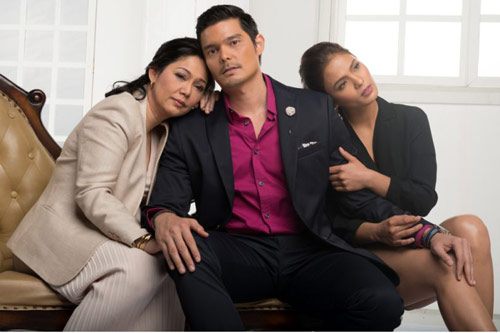 Ang Dalawang Mrs. Real is the newest primetime show on GMA-7 starring Dingdong Dantes, Lovi Poe, and Maricel Soriano.
The story revolves around Dingdong, who plays Anthony Real, and the 2 women he falls in love with and marries. Maricel potrays the role of Millet Gonzales, an outstanding and highly-regarded educator who is successful in her career but not so in her personal life. She and Anthony accidentally meet and eventually, marry. They eventually had a son named Tonton. Anthony has his own architectural firm and Millet is a stay-at-home mom. They are the picture of a happy family. The conflict comes from Millet's father, Henry, played by Robert Arevalo. He resents that his unica hija has been sidetracked from a successful career by a man of whom he does not approve. Coney Reyes plays Sonia, Anthony's overbearing mother, who takes it upon herself to defend her son from her rich in-law.

Both Anthony and Millet showed how they love each other so much until Anthony met Shiela where he showed his weakness. Each character were played with enormous feelings since it is very relatable to the audience. You can truly see the good chemistry between Maricel and Ding Dong even with Lovie Poe. It is really a challenge for both the writers and the director to have this kind of teleserye but with the help of 3 powerful actors, it became a masterpiece.
I am very fortunate to visit them during their taping, and we get to interview my long time favorite actress Ms. Maricel Soriano and the most sought after actor in this generation Mr. Ding Dong Dantes as well as their blockbuster director Andoy Ranay.
According to Ms. Maricel, even though she has done a lot of roles in the past, during her Maricel Drama Special, she feels that her role as Millet is the most challenging one and up until now she is trying really hard to fit in with her own role, there are times she would talk to herself in the corner just to condition herself for their taping. She couldn't accept that the role she is portraying is that "stupid". She also asks for Direk Andoy's advice every now and then so that she could portray the role perfectly.
We even told her how the show is rating and how trending it is when it comes to Twitter, she said even though she didn't know anything about all the social media sites, she is thankful because people are supporting their show and she receives a lot of good feedback as well. She also wanted to tell all her loyal fans that without them, she will not be able to stay this long in the industry and she owe it all to them.
She also added it was a wonderful experience to work with Ding Dong and Lovi Poe because they are very professional when it comes to work. They gave her fresh air when it comes to acting and they always make it a point that every scene is a take one.
Ding Dong arrtved looking really fresh and what I love about him is that he instantly acknowledge us and smiled warmly at us, greeting everyone in the room. He just arrived from New York where he and Marian Rivera, his beautiful girl friend traveled for about a week. Their IG posts showed how much they enjoyed each others company.
Ding Dong said that when he learned that he is going to work with Ms. Maricel Soriano, he felt very nervous and excited all at the same time. It was that kin d of pressure because he knows he will be working with the multi awarded actress. He also feels very thankful to be working with 2 fine actress in this teleserye, he has worked with Lovie Poe with TikTik and he is also looking forward with their MMFF entry which is a sequel of their past movie. This time it is going to be much bigger and bolder movie since the graphics is totally amazing according to him. The title of their upcoming MMFF netry is "Kubot:The Aswang Chronicles 2".
It was also an honor to meet my super favorite blockbuster director Direk Andoy Ranay. He is very busy these days because he has been directing films here and there continuously. He directed the hit movie Diary ng Panget which stars Nadine Ilustre and James Reid, now he is also directing their follow up movie "Talk Back and You are Dead". According to Direk, working with veteran actors for him is easy but working with young actors can be challenging because you have to level up with their age.
Working with Maricel, Direk Andoy said was a dream come true because he is also a fan. He loves all her films. They even had a dinner first and she assured him that she will give him her full respect and will obey his commands as the director and for the good of the project.
With the comparison of his teleserye to The Legal Wife which already ended he said, it is a different story. Ang Dalawang Mrs. Real is the point of view of the man which is Anthony and all about Bigamy. Direk said he is very grateful to be working with 3 fine actors and they are not giving him any headache. It feels good to work in a good ambiance where everyone is working comfortably.
Main Cast
Maricel Soriano as Millette Gonzales-Real
Dingdong Dantes as Anthony Real
Lovi Poe as Sheila Salazar-Real
Supporting Cast
Coney Reyes as Sonia Real
Robert Arevalo as Henry Gonzales
Celeste Legaspi as Aurora Gonzales
Tommy Abuel as Justino Salazar
Jaime Fabregas as Jun Real
Susan Africa as Salome Salazar
Alessandra De Rossi as Sandy Alegre
Rodjun Cruz as Allan Real
Marc Abaya as Vincent Dumlao
Dominic Roco as Daniel "Dado" Salazar
Marc Justine Alvarez as Anthony "Tonton" Real
Diva Montelaba as Liza Estrella-Salazar
Special Guest
Marco Alcaraz as Edgar
Ina Feleo as Lydia
Frances Ignacio
Don't miss Ang Dalawang Mrs. Real weeknights on GMA Telebabad!
Like them on Facebook:
https://www.facebook.com/DalawangMrsReal