Kylie Padilla's New Album Seasons is Now Available with All Original Tracks
8:00:00 PM
Kylie Padilla finally launched her new album "Seasons" and she recently held a Bloggers Conference for her album, it was indeed a pleasure meeting her in person because she is very nice and bubbly as well, plus we can't help but notice how blooming and fresh she looks right now knowing that she recently had a break up before but of course, we all need to move on and have a great life right?:)
Kylie talked about how she really wanted to be a singer even when she was just a kid, as a result, as she was growing up, she turn to writing her own songs, up to date, she has written a dozen or so songs that one day, she wanted to put into an album. Although she admitted that she didn't know how to play any musical instruments, she is willing to learn in the future. "Making this album was truly an emotional journey. I got to know more about myself, and I'm sure na marami ring makaka-relate sa songs na nasa album na ito," she humbly added. This album took 2 years in the making and finally, she felt really happy when it is finally out.
She composed most of the songs in her album right now and when asked where she got her inspiration when she is composing her songs, she said most of it were based from experience. Not that she feels like she's Taylor Swift who mostly write her songs based from heart aches and break ups but Kylie said, she writes different experiences and most of the time she feels that the perfect time to compose songs is when you really experienced it, whether it may a happy experience, sad or monumental it may be. "Every kind of feeling—whether happy or sad—inspires me to write music and sing," "Nag-evolve na ako. The Kylie (who wrote some of the songs) two years ago is so different from the Kylie now. The songs, they are more deeper and the way I wrote them, it's more structured. They need to read and listen to the lyrics and music talaga."
Kylie added that someday she wanted to collaborate or do a duet with the Asia's song bird Ms. Regine Velasquez-Alcasid, she said it would be a dream come true as well as to perform in a concert because most of the singers right now dream of having a large scale performance and hopefully she can do it someday soon although she will be having mall tours to promote her album.
Even though she is busy promoting her album, Kylie said that there will be other projects line up for her this year. She will have a new teleserye with Alden Richard soon and it will be on prime time schedule so we should all watch out for it.
Kylie even gave us sample of her new songs and she can really hit the notes. She reminds me of Michelle Branch with her voice or maybe Avril Lavigne if she will sing pop songs as well.
Her carrier single is Gitara, also included in the tracklist are Awake, Mine, Thank You, Lonely Without You, Seasons, Sulat and Alive.
Composers Agat Obar Morallos and Barbara Jeanne Bufete Ponciano are also among those who helped in masterfully crafting some songs in the album.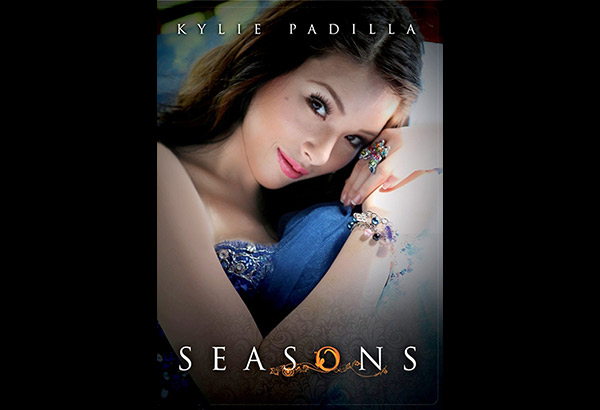 Seasons can now be digitally downloaded via iTunes, Amazon and Spotify. Seasons album is now available in all leading record stores nationwide under GMA Records.
Kylie invites you to buy her new album :)


Gitara Music Video:

For more details visit GMA Records via their Social Media accounts: