Chynna Ortaleza is "Olivia" in the movie Dementia
9:44:00 AM
Chynna Ortaleza is one of my favorite actress ever since SHE STARTED IN GMA netwrok's teen program "Click". I would always watch that show even when she was paired with Richard Gutierrez back then. I always thought that she is a good actress not until she portrays more mature roles as years pass by, she have already proven how mature and versatile she is through the years.
Throughout her showbiz career, Chynna has proven that she is more than just a pretty face. Smart, spirited and multi-talented, she is one of the better actresses of her generation and is continually honing her craft. Although we usually watch her as the "villain", when we got to interview her before during the "Dading" set visit, she narrates how she loves to portrays as the villain because it has a lot of angles, she will not be stuck with the typical roles given to other actors, being a villain is a big challenge in which she is very effective.
This year, Chynna will be portraying another challenging role that can be one of the bucket list roles of every actor in the showbiz industry. Another thing is, she has done a movie opposite one of the pillars of the Philippine movie industry, an award winning actress, no less than Ms. Nora Aunor.
Dementia is a story of Mara Fabre (Nora Aunor), a middle-aged woman suffering from Dementia, a clinical condition where cognitive and intellectual functions are sufficiently impaired, thus requiring close supervision and care. She's mostly in the fog, forgets people and things, and is unable to function productively.
She is brought back by her family to her childhood home in Batanes with hopes of reconstructing her memories. Her family becomes even more distraught when, instead of regaining her memories, she begins seeing apparitions and starts doing strange things. When these visions start doing harm to her and her family, Mara must immediately piece together fragments of her memory to confront the ghosts of her past.
In the course of the story, orphaned Mara was taken in by the Fabre couple who, unknown to the young girl (Althea Vega), has been keeping an intellectually challenged daughter named Olivia (Chynna Ortaleza) away from the prying eyes of the public. Mara soon realizes how she would figure in the household - as Olivia's guardian and friend. The girls grew up affectionate of each other until Mara falls in love with a young man who then proposes to marry her. In a fit of jealousy, Olivia stabs Mara's beau. The situation briskly escalates into one of morbid consequences that you should definitely watch out.
Chynna narrates to us how she was considered as the horrifying "Olivia" in Dementia.
She was asked by GMA Artist Center to auditon in the said film last February 14, a day that is truly memorable to her because it will be her first time to celebrate it alone and she celebrated it by being busy at work. That night as well, she got the big news that she got the role and what's even more surprising is that she will be working with Ms. Nora Aunor. It stuck with her for 3 days and she can't really believe that it is going to happen.
She talked about her role as Olivia too, "Isa ito sa talagang dream role ko, Psychotic ang character niya kaya when we were shooting, I told myself that I was this role to be as organic as possible. Gusto ko raw talaga sya para ramdam din ng audience." They shot the scenes mostly at Batanes which is why you should expect the best cinematography for this film.
Chynna mentioned that they shoot for 2 weeks in Batanes. She didn't get the chance to roam around the area since she was preparing for her role and she want it as much as possible to
be perfect so that she will not have to repeat takes with the legend Ms. Nora Aunor.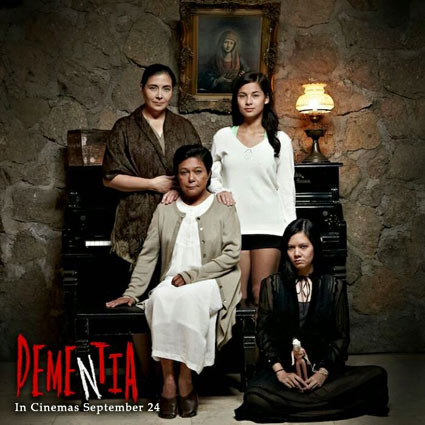 So, how was it like doing a movie with Ms. Nora Aunor?
"Not everyone gets the chance to work with the Superstar and she is the most down to earth person I have ever known. Napaka professional, she can change emotions with just a snap of the finger. One minute she is smoking a cigar then in a snap of a finger she can change her emotion that fast. I love the way she awes everyone with her eyes full of emotion, that made her different from everyone else. She made me feel comfortable by being playful on the set, maybe she felt I'm a bit tensed. "
"For me talagang napaka-laking privilege to work with Ms. Nora, For me, it's a huge blessing. Kasi, marami akong natutunan sa kanya. Hindi lang sa aspeto ng pagiging artista kung hindi sa pagiging tao."
How about working with Direk Perci, "Si Direk sobrang bait na tao, it is my first time to work with him and he made me feel really comfortable with the role that I am working, iba kasi ito, challenging siay kaya humihingi ako lagi ng advice if I'm doing it right. With Horror kasi it's way different compare with other roles that I did in the past, this one Direk told me that my eyes will do the trick and focus lang. He also old me when I was nervous to take the part, kaya ikaw pinili namin kasi ikaw ang bagay sa role, ikaw yan."
Dementia, which is currently being screened in cinemas, is graded A by the Cinema Evaluation Board.
Dementia also stars Jasmine Curtis,
Bing Loyzaga,
Jeric Gonzales
Yul Servo,
Althea Vega and
Lui Ma­nansala. Directed by Perci Intalan and written by Juna Lana, distributed by Regal Films.
Watch the Official Trailer here:
Chynna Ortaleza invites everyone to watch Dementia:
For more details about your favorite Kapuso stars: