Moron 5.2: The Transformation Now Showing in Cinemas nationwide!
9:56:00 PM
The Morons are back! Just in the movie though :-) After the box office hit movie, "Moron 5 and the Crying Lady" comes a certified box office hit sequel of Moron 5.2: The Transformation, still directed by Wenn V. Deramas under Viva Films.
Special thanks to Viva Films for inviting us to the grand premiere of this movie at SM Megamall. It was jam packed with fans of the main cast, starring Luis Manzano, Marvin Agustin, Billy Crawford, DJ Durano and the new member of Moron 5 which is no less than Matteo Guidecelli.
It was indeed a star studded event, Colleen Garcia was present during the event to support his boyfriend Billy.
Set at least 5 years after the events of the first movie, the five half-witted long-time friends Albert (Luis Manzano), Isaac (Billy Crawford), Aris (Marvin Agustin), Mozart "Mo" (DJ Durano), and Michael Angelo "Mike" (Matteo Guidicelli) have become family men whose talented and intelligent children are not exactly proud of them. On one lonely night together, the five morons get struck by lightning and it gives them the impression that they've gained superpowers. With that, they set out to prove their worth to their kids not knowing that their old-time enemy, "Crying Lady" Beckie Pamintuan (John Lapus) has escaped from the mental asylum to take revenge on them.
Judging from the hilarious laughs of the audience while we were watching the movie, it was indeed another fun movie to watch with your family of friends. This is the perfect time to watch comedy films just to give good vibes to everyone.
Matteo on the other hand is still looking for the love of his life but once you watched the film, it is really hilarious how he ended up with.....you'll see. :-)
Some of the jokes thrown by the main cast were like adlibs and were more personal like when Billy was missing and Marvin said he was in prison or when they are teasing Matteo
because of Sarah G.'s mom and more.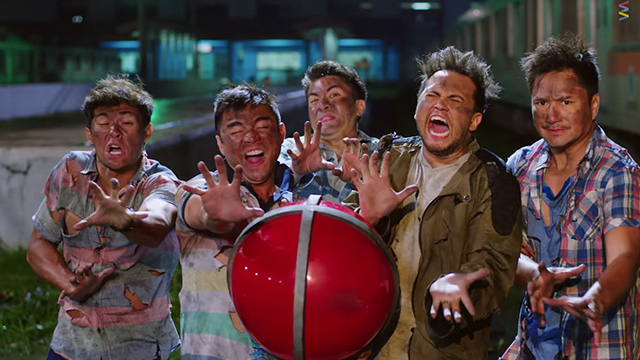 Even though the movie is comedy and was centered on how they make fun of the moronic ways of the lead cast, direk Wenn made it sure that the kids who in the movie were ashamed of their Dads, will change how they feel of them and in the end will also be proud of them.
This is one of the perfects ways to teach everyone that we all deserve some respect.
John Lapus is also super funny in the movie, he perfectly knows how to imitate Kris Aquino.
This movie will never be complete without him.
MORON 5.2 THE TRANSFORMATION now showing in cinemas nationwide!
For more details: